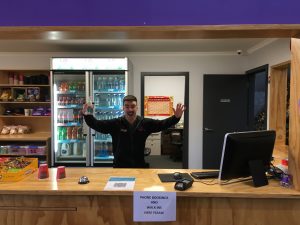 The team at Leap and Clip 'n Climb Dunedin are over the moon full of joy to be open again and providing Dunedin with the fun they deserve.
The trampolines have been busy at the park, proving to be the perfect activity to enjoy under social distancing circumstances.
As for our climbing walls, they have become a great way to get through the lockdown stress – Keep calm, keep climbing.
What better time than today to get over your fear of 9 meter high climbing walls, right?
Our Little Leapers have been keen to get back onto the trampolines too. As for mum and dad well, they've been counting the days to get their little ones jumping again, so they can grab a cuppa. The little ones deserve to stretch their legs too.
Little Leapers sessions are running every Tuesday – Friday 9am-12pm.
Whether you want to join us on the trampolines, the dodge ball court, or the climbing walls we can guarantee you a safe and fun experience at the park.
So come join us.