Our classes are not operating during the school holidays.
The Leap freestyle class is a fun environment that you can learn new tricks and flips. We will help the participants to learn and become more confident with basic vaults, through to more difficult flips.
The class is run by one of our team members, Craig Beer, who has a background in coaching trampolining.  A number of other staff are also involved, all keen to help you achieve your favourite trick.
The class is casual and mostly focuses on individual goals, as there are a variety of skill levels ranging from participants who are new to trampolines through to ones that have been learning tricks for years.
This class is all about learning new things and having a great time, there is no certain standard that you have to be at, just come on in and we will get you into a class.
The freestyle class is perfect for anyone wanting to learn skills in a fun and controlled environment.
When
Tuesdays
4 pm – 5 pm,    5 pm – 6 pm
Cost
$20 a session
We prefer to have upfront payment for the whole term but we can sort something out with you.
Call to avoid disappointment as classes have limited spaces.
Benefits
Studies have shown that regular leaping on trampolines offers many physical, health and educational benefits for kids such as:
Teaches Persistence
It takes time to master specific skills on a trampoline but because it's so much fun, kids will often persist until they get their moves right.
Develops Motor Skills: muscle control and coordination
When kids leap on a trampoline their brain is forced to function bilaterally as they leap up and down in the air.
Both sides of their brain and both sides of their body must work together to maintain coordination and balance when on a trampoline. This in turn helps increase their motor skills.
Improves flexibility
Jumping on a trampoline strengthens and lengthens muscles and improves flexibility.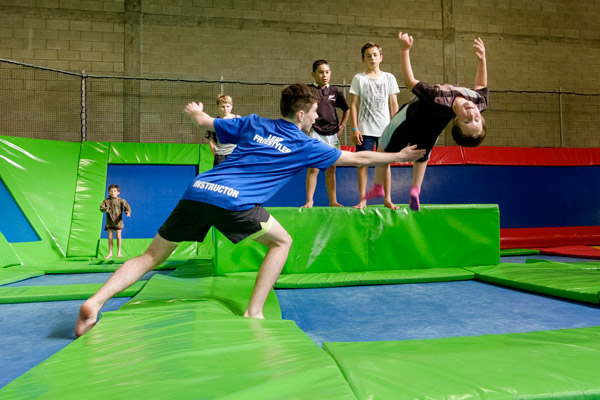 Freestyle Classes are currently in a trial period for this term.